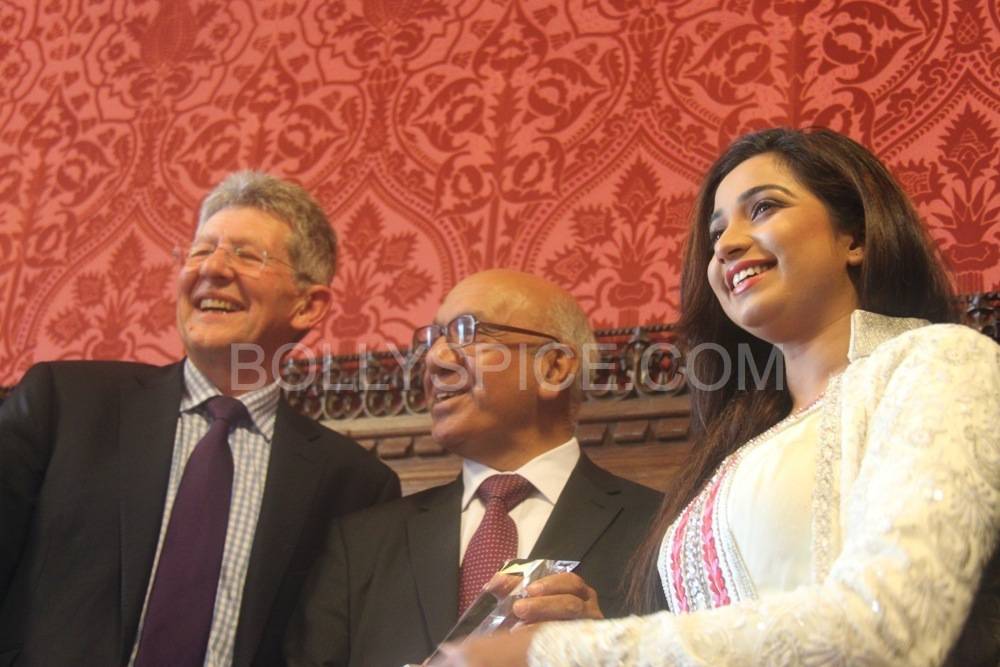 Shreya Ghosal was bestowed one of the highest honours today in London, by elected Members of Parliament (MP) in the House of Commons, the home of UK politics and centuries of democratic tradition. Shreya's supreme talent, singing ability and services to Indian music were praised, in the presence of a select audience. Bollyspice was there to capture the special moment.
Shreya was accompanied by her father, a scientist and engineer, who was instrumental in nurturing her talent. She was hosted by Labour MP Virendra Sharma of Ealing Southall, who is of Indian origin. Labour MP for Brent North Barry Gardiner, who has met Shreya and her father before. Labour MP Jon Ashworth of Leicester South, which is home to one of Britain's largest asian communities and where Shreya will also be performing.
Shreya expressed that "This is such an honour to be here. You are helping to motivate me. I will do better music and something more meaningful in life, as a payback to the love you have given me." She also shared how despite coming to London a few times as a tourist, this visit to the House of Commons was like a fairytale come true, which made her feel like a princess.
Shreya also shared her experiences of being the only child who took to music, growing up in a neighbourhood of children who were predominantly groomed to become scientists and engineers. "Where I grew up, all my friends were either doctors or engineers. There was no alternate second option. The moment they came to hear that I was learning music, they all came and asked if I was sure I wanted to do that!" She hoped to inspire other children, parents and singers through her example.
Shreya also talked about acting offers, though she confirmed that music was her forte. "I have been asked to act, but I think I would be a terrible actor! Music is similar to acting, it is theatre and art. My voice is the medium that I have taken up, so I do not think I have the inclination to act."
We managed to ask Shreya a couple of quick questions before she was whisked away for her exclusive tour of the House of Commons. We asked her how it felt like to be in England to celebrate 100 years of Indian cinema, to which she responded: "I always used to listen to the great singers and I am part of that world now, so it makes me feel very blessed that I am part of that league, which featured legends like Lata-ji and Kishore-ji."
We also asked her what we could expect from the shows and she shared: "I'll be singing all my songs through to the latest ones and a couple of tributes as well." With regards to London she said "This is my second performance in the Royal Albert Hall. It is a very prestigious venue and I am really looking forward to it."
Get ready for an extraordinary set of shows…
For more information visit: www.shreyalive.com
Check out these exclusive pictures!

jQuery('.nrelate_default').removeClass('nrelate_default');