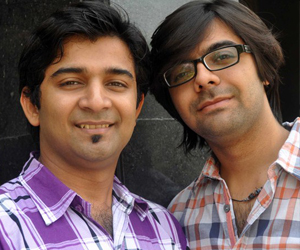 Sachin and Jigar are emerging as one of the best music directors in recent years, especially considering their rapid ascension from 2 years ago. Their versatility ranges from FALTU, Shor in the City, Hum Tum Aur Shabana, to Tere Naal Love Ho Gaya. Yet, the stakes are much higher with their latest soundtrack for Remo D'Souza's ABCD – AnyBody Can Dance, which is India's first 3D dance film. Sachin and Jigar have produced one of the most unique and innovative albums of 2013 with this film. Bollyspice decided to catch up with these busy guys to chat about their successes, their methods, and the music scene today.
Both of you have got a great list of soundtracks that you've done recently, how do you try to approach these varied types of films? Do you go for directors and look for exciting scripts?
Jigar: We take a lot of narrations before we start working on a film, especially with guys like Remo and Raj and DK from Shor in the City. Whenever we meet, we talk about the film, and almost live the film. For the past one year, we've been living ABCD!
Sachin: We're completely director's boys and go with their conviction. The heart of every film is the script, once you have that then it's completely the director's vision. Since we're coming from a theatre background, I think that has helped us to imagine the song and its situation, and how it will gel with the scene.
How do you guys feel in a music scene where music directors often have a star backing like Salman with Sajid-Wajid, or Akshay and Himesh? Are there ever problems to stay true to your style without that?
Jigar: We're still comparatively new to the industry so I'm not expecting to get the Akshays and Shah Rukhs too soon. But we're getting to do what we love and these films are a little hatke and keep us occupied for a little more time. I'm quite happy that we've got a few directors that we respect and get the opportunity to work with.
Sachin: I think we have a strong backing with Remo and TIPS music. With the star backing, it's finally about the rapport where a certain person believes in another. So for a Salman Khan film, maybe he thinks that this is my big film and I want my boys to give me a good song, that's how these things come about. I think we are fine doing our jobs well.
How did you cope with the minor controversy around with the Kya Super Kool Hain Hum soundtrack?
Jigar: Well, the Dil Garden song was the outcome of the narration. That was the first song we came up with and it was initially approved by everybody. But unfortunately, there was some family drama and we couldn't finish that. I really feel bad for not finishing the whole album as we were supposed to do the whole film. But after one film we had a mutual understanding, but we told Ekta the deal. I'm so glad she took it in a positive way, and let us solve these things.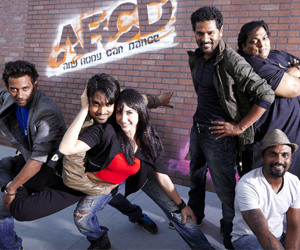 ABCD has got some great tracks that lend themselves to the dance-offs and challenges. Did you work closely with Remo and the choreographers to get that sound?
Jigar: Remo told us to start composing as there's more than 10 songs. The only thing he told us was, "guys don't do anything you're not sure of." There were a lot of briefings and sit-ins, wherein he told us we're doing dubstep but its Indian, we're doing hip-hop, but it's Indian. It's not a western film, it's a very rooted film. We used to go to Remo's shows where he was performing with his dance team, and to make us understand the sound they remixed Saibo back to us to get the right arrangements for certain songs. Once the briefing got clearer, we were all on the same page and we made songs that he liked.
There's a really punk and dubstep edge to some of these tracks, what are some of the genres that you played with in this album?
Jigar: These songs are sounding like individual songs that work as standalones. Each song in the film makes some sense for the narrative. If you look at the album as a whole, you'll be able to frame the film on that. It's a progressive album that starts from the mature Bezubaan to the most complicated track that Remo has ever made. These songs in particular have their own edit in the film, so they may sound different in the film.
Sachin: Jigar is so updated with sound, and brings in these new ideas. I have more of the Indian classical background, between us we have the collision of two different worlds. For a certain track, I needed to explain to him a certain genre of the classical side that we hadn't explored yet. He put his head to toe in that side, it's a good exchange for us.
The versatility on this album is interesting from the Ganpati songs to Bezubaan, that you can't really pigeonhole the two of you and say that's a 'Sachin Jigar' track. What do you feel is the personalized USP for this album?
Jigar: We are the really the director's music directors. For Tere Naal Love Ho Gaya, it needed a 70mm Bollywood song and we tried to do our best for it. Shor in the City was one of its kind, because it was so special to us. Saibo and Karma is a Bitch were so special and new for us, that sometimes we surprise ourselves with what we create. With ABCD, the best part of the album is that it doesn't stick to a certain genre. It keeps changing, for example the two Ganpati songs where we fuse the dubstep with the Indian dhols. In the first Ganpati track, we were trying to do a rap of the shlokas. We are really proud of it being a dance-based album, but we're not sticking to the usual routine of Punjabi tracks. With Bezubaan, we used a rap thing from Tanvi in a sad song with a beat to dance with. A lot of experiments that we tried, but it'll probably come through well onscreen.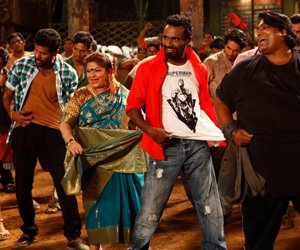 Sachin: Frankly, I'd love to see if we had that Sachin-Jigar sound. We're such doggies, we've got our den here. Between Jigar, Priya Panchal, and me we make such a good and thick team. As every film has its own mouth, its own stomach, you just know what might suit the script. We've found a brother in Mayur Puri, now that also forms a very important part of music-making. Sometimes we inspired him to write a certain song, or he gave us that lyrical input that makes a song.
You had an unconventional pairing with Udit Narayan and Mika Singh, who sound so good together on Psycho Re. Who are some singers that you love to work with and watch the fireworks?
Jigar: There is one favourite we have, which is Anushka Manchanda, we really love her and she's so good. Apart from her, of course Mika paaji, Mohit Chauhan, and Priya Panchal who sung Bezubaan. We love Maddy, the guy who sung Duhaai, he's a guy to look out for. And of course the great Atif Aslam. We don't stick to it, we try to find new voices and give them some space in the albums. There's new voices with ABCD, and I hope it works so that we can use them again.
Sachin: well in the current times, I really like Papon, he's one guy I'm dying to work with. It's an age of exploring more tones, what with YouTube coming in every home, has done for Indian listeners is for to hear Koi Bhi Kaliya Bhag or Jason Mraz, who were only popular around tech-savvy guys. I think somewhere; even the Indian audience are hearing more tones. And shows like Indian idol have opened up the eyes for production houses that there is so much talent in here that we need to showcase it. People are not stuck with same typical guy singing all the songs and winning all the awards. Frankly, what really works for a playback singer is if they can emote, because pitching and rhythm are key. An ordinary singer versus a playback singer the difference is how well one can emote. Just the smile in that man's [Udit Narayan] voice is amazing, and once he was on the mike with the fourth time with (sings) Yenna Porra Rascala, I remember the smile not going off everybody's face.
Do you feel shows like Indian Idol and the various talent shows offer up a wider selection for music directors to call on?
Jigar: Of course, but once these Indian Idols are over, then these guys get so busy with the shows. They are so popular then. Sometimes it's so hard to trace them, so I say to them after doing Indian Idol please be available because some people want to use you. There is a lot talent, but there's also a lot of people that meet us over here at the studio, and sometimes you get amazed.
Sachin: I think that actually, we always had this talent, but now there's this platform to showcase, and the whole world is watching them, not just us. I still believe that there is a certain bridge they have to walk over to get to the labels. We have had 6 seasons of Indian Idol, and 12 Sa Re Ga Ma Pa's, and have only found three singers. One is Shreya Ghosal, there was another name, which is again not so popular who started to fade out now amongst the boys, that of Rahul Vaidya. Somewhere I feel that these reality concepts are somehow at the end of showcasing, they give good live performances. Somewhere singing in the studio is avoided, I wouldn't say that the singers on these reality shows can't sing in a studio but I'm saying is whether they can do or not do is up to them to answer. Certainly it's a few more kilometres that one has to walk.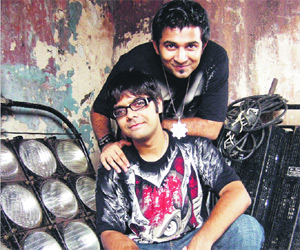 What are some of your favourite dance sequences in the film?
Jigar: Oh god I can't pinpoint one man, they're all so good! All these boys, and Prabhu sir, Ganesh sir, and Remo sir they are all choreographers, I don't really see a point in pinpointing my favourite. As they are all doing everything that makes you go WOAH!
Sachin: Ohh god! There are so many moments, but one particular thing I remember is the way Jigar actually scored music for a certain character called Chandu. It was the first he was performing with the team, and it's kind of a psychedelic tune, because he's a certain character in the film and it needed to be that way. And Jigar was working on it for hours, one morning I woke up and I said, how much love you have for Chandu! Whatever we could do to bring those small inflections, the small moments in their body language, it only helped the audience to see the dance more clearly. I think the medium was such an important process, we haven't seen it yet, but we thoroughly enjoyed every bit!
What are your thoughts on the music scene today with a landscape that features raunchy lyrics and reliance on the Southie beats? How do both you try keep your style fresh in a scene where songs can get so stale so quickly?
Sachin: I often get asked by senior members of my family, why are your songs not able to sustain, and why these older melodies in your songs. My immediate response is those songs are very melodious and very soulful, but somewhere I feel there was only some Lata and only six to ten films releasing a year, versus the 100 to 200 films releasing these years. There's so much on offer, so much internet, and so many video channels, as a listener, you are now choosing what you want to hear whether it's from the 1980s or now, or from this genre, or that artist. So much worldwide option, that it will be difficult for one album and one song to stay there forever. I would still believe that melody has the power in it, when you do a melody and believe in it, and its lyrical content, and don't overproduce it, it always sounds clutter-breaking and find its life. Somewhere I feel that the clutter-breaking can happen, and if you're doing soulful romantic songs. For example, our Saibo from Shor in the City is our contribution to that style of music.
What are your upcoming projects?
We're really looking forward to Go Goa Gone, a Saif Ali Khan film. this will be our second with Raj and DK from Shor in the City. I mean amongst friends, and people who saw what we're working on, and they're really excited. It's just a hilarious film that brings a smile to my face whenever I talk about it. it's got some wacky songs and it's very different for Raj and DK too. So we're really excited for that!